text.skipToContent
text.skipToNavigation
An in-depth approach to cybersecurity

Minimising cybersecurity risks: ensure digital resilience of your operations with Schneider Electric

New digital technologies open the door to more advanced, cost-effective methods of designing, operating and maintaining factory equipment. As digital transformation affects more and more industrial activities, advanced connectivity plays an important role in improving operational efficiency. Along with new opportunities, more connectivity also brings new challenges and increases vulnerability. To better manage this increasing vulnerability and threat of cyber-attacks, most industrial companies have come to understand the importance of having a cybersecurity strategy to better protect themselves. Can you protect your business and still embrace new technologies that allow you to grow and deliver the best possible results? With Schneider Electric, you can.

Digital transformation and managing cybersecurity risks work together 
Smart machine deployment projects that involve connecting to the internet or external networks must also address potential cybersecurity issues. Digital transformation and cybersecurity are 100% linked. For this reason, plant owners and machine builders must be careful not to proceed with one without the other. It is up to each organisation to understand where vulnerabilities lie within their systems and operations. 
 
The three pillars of cybersecurity
Any cybersecurity strategy is only as strong as its weakest link. Therefore, it is fundamental to identify and mitigate risks by applying standards and good practices across the entire line of defence, which should integrate people, processes and technology.

People - strong cybersecurity requires trained and aware employees. In many cases, your employees are your first and last line of defence. A crucial element in this area is creating and communicating a company-wide security culture, fostered by continuous training.

Processes - to identify and eliminate cyber risks, it is important to establish and adhere to good processes and policies. Companies should start with consistent and regular risk and threat assessments.

Technology - your cybersecurity is only as strong as the technology deployed to manage and control your operations. This aspect has everything to do with protecting what your business develops, as well as ensuring that your suppliers' technology in the supply chain is secure.    
 
Cybersecurity at every level
At Schneider Electric, security is built into its vendor-neutral, open and plug-and-play IoT platform as standard: EcoStruxure. Schneider Electric's EcoStruxure platform provides powerful digital solutions and full OT/ IT integration for the industry. The platform includes a combination of smart Ethernet-connected products, powerful and scalable control and monitoring systems and an open standards-based portfolio of software, apps and analytics tools that provide seamless integration of machines and processes into the IT layer. End-to-end cybersecurity supports applications and data analytics, integrated into these layers, that merge IT and OT equipment, software and services.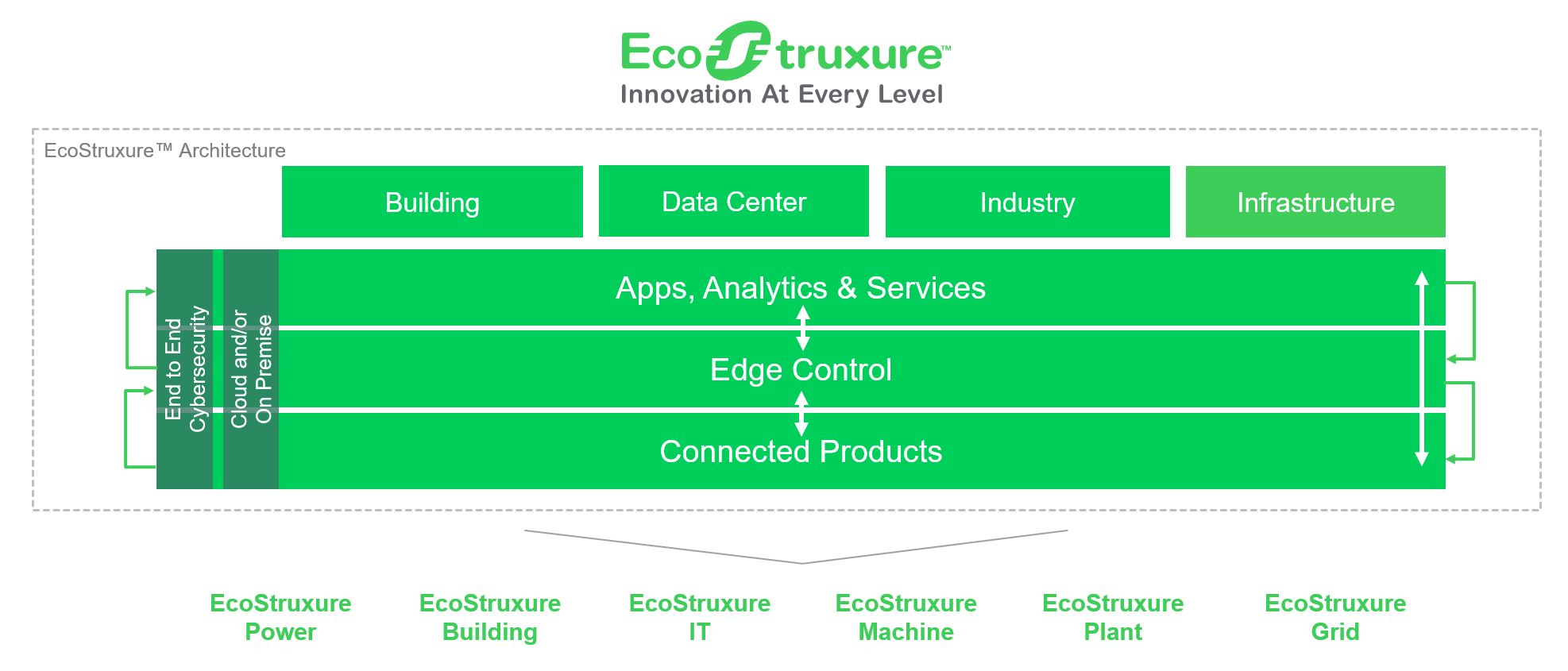 An in-depth approach to cybersecurity
Industrial companies expect the products they buy to include everything needed to mitigate cybersecurity risks. But the products alone are only a starting point. How the systems are implemented and integrated on the factory floor is also crucial. Once the systems are operational, many other aspects need to be considered as part of the overall operation, depending on your risk assessment. These range from simple firewalls to network segregation and testing. Effective cybersecurity encompasses your entire OT environment, from products and systems to services.  
 
Our best-in-class solutions for securing your digital transformation
Schneider Electric is committed to providing solutions that support your cybersecurity needs across all types of businesses and industries. In developing our products and implementing our solutions, we apply a rigorous mindset, policies and methodologies. 

Skilled and certified professionals provide dedicated services to help you assess your risks, implement cyber-specific solutions and maintain your defences over time at your location.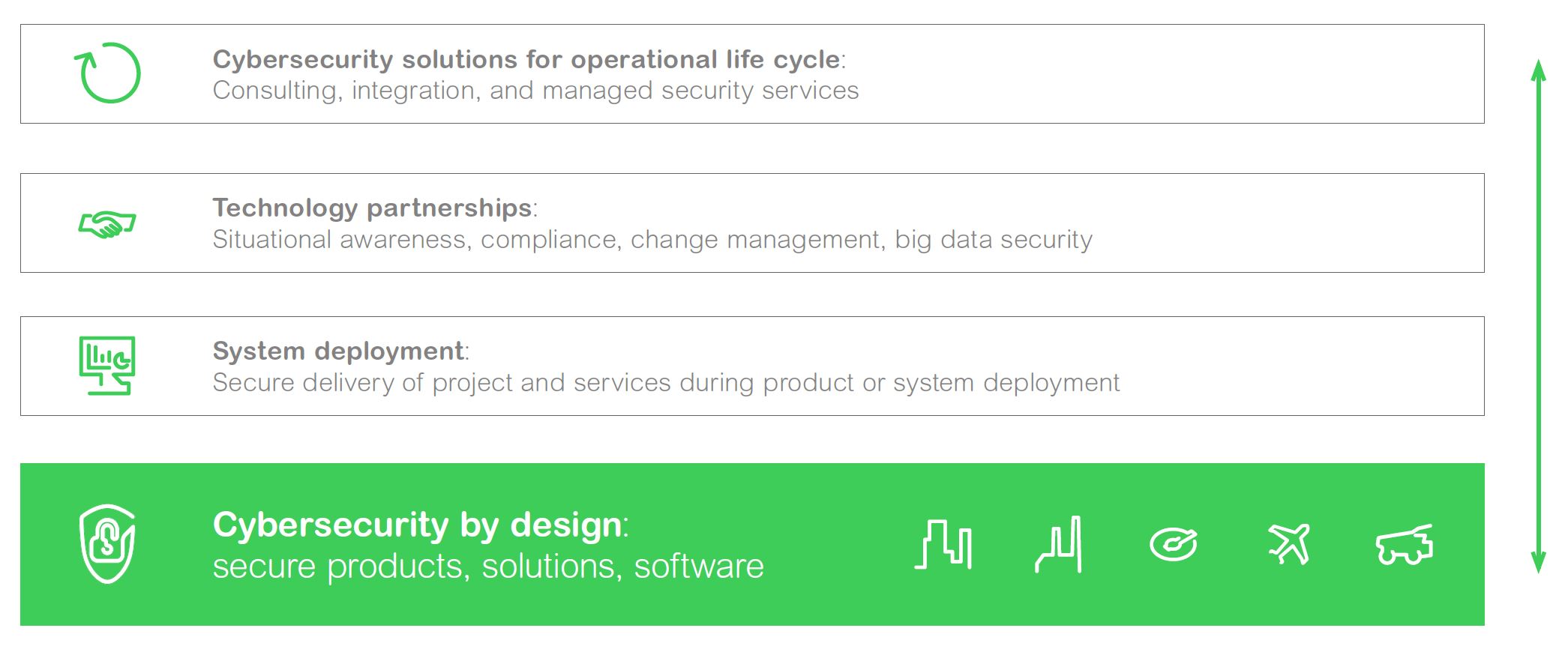 Consulting - our cybersecurity consultants support in assessing and reviewing your systems to identify gaps and risks, uncovering any security lapses, assessing the security competencies of your staff, providing emergency response services and more.

Design and implementation - with an understanding of your unique needs, requirements and knowledge of best practices and industry standards, our engineers can design, develop and implement an effective security architecture. We help protect your critical infrastructure through an in-depth approach to cybersecurity that can be tailored to your needs, from basic SL-1 compliance to a comprehensive solution.

Monitoring - cybersecurity solutions are monitored to detect threats, apply patches as well as ensure the smooth operation of devices and the system as a whole.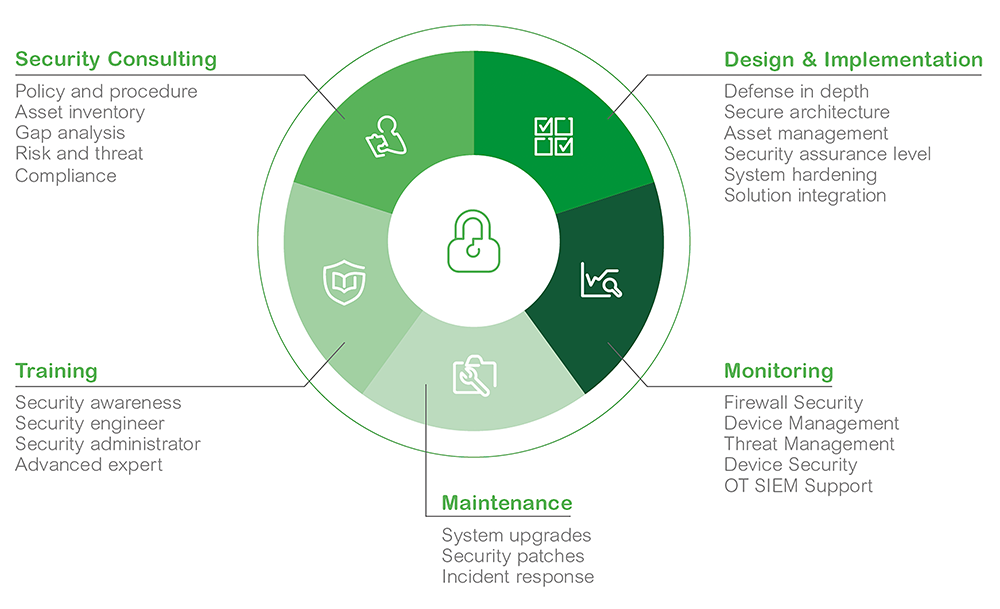 Maintenance - it is crucial to continuously review and update your cybersecurity. We work with your team to ensure your systems and skills are up to date and regularly tested to maximise your security and peace of mind.
 
Training - people are the most important element in ongoing and effective cybersecurity. Designing and delivering effective training for different roles in your organisation is crucial. From basic awareness to expert-level skills, our team can help you develop your company's cybersecurity culture by designing and delivering a range of training and education.
 
Cybersecurity solutions
The solutions we design and implement are flexible and tailored to your specific needs and requirements. The most critical cybersecurity solutions are defined in four categories.

Authorise - manage access to equipment, systems and information through network and physical controls.

Protect - implement specific controls as part of operational systems for continuous protection.

Detect - monitor the operational environment to detect and pass on threats.

Respond - develop procedures and systems to support rapid response to cyber incidents to contain and mitigate attacks.
 
Cybersecurity assessment through Schneider Electric
Whether you are not sure where to start, or need help implementing a cybersecurity strategy, our experienced and qualified experts can help you address your cybersecurity challenges with solutions that fit your needs. When plant owners and machine builders need validation of their cybersecurity approach, Schneider Electric has the knowledge to assist and guide them.  

Completing a cybersecurity assessment is the first step in building a reliable and robust cybersecurity programme and should be the starting point when applying cybersecurity requirements in an operational technology (OT) environment.

Our cybersecurity assessment services provide clients with insight into their cybersecurity by identifying gaps and key risk areas that need to be remedied. In addition, our service provides targeted recommendations and a concrete roadmap to achieve your cybersecurity goals. Schneider Electric's cybersecurity assessment is conducted in accordance with industry best practices and standards such as IEC 62443, NERC CIP, CFATS and ISO27001.

Want to know more about the cybersecurity assessment? Download the datasheet.

Stay up to date with the latest news:
Check out our other success stories:
Why not take a look at these trainings we offer: