text.skipToContent
text.skipToNavigation
itsme runner-up at DISCA'22

This year, itsme once again reached the finals of the Dutch Industrial Suppliers & Customer Awards. On 24 November at Hoeve Merelveld, itsme fiercely defended last year's title. After an exciting battle, itsme narrowly came second behind Refitech Composites in the Best Parts & Process Supplier category.

307 nominations
A total of as many as 307 companies were nominated for a DISCA this year. Of these, 36 advanced to the second round in the Best Parts & Process Supplier category. Five companies advanced to the finals last Thursday. After the jury's verdict, only two were left! Refitech and itsme. The audience present had the last word. It chose Refitech, which we hereby congratulate once again! 
 
Unique achievement
DISCA'22 was an anniversary edition: it was the 20th time the awards were presented. In the event's history, itsme is the first company to finish among the first two twice in a row. We are very proud of this result and would like to thank everyone who made it possible: our employees, partners and suppliers, Link Magazine, the jury and, of course, our customers.
 
Jury report
Thanks to them, itsme can submit another great report. It states that itsme, despite all the sourcing problems in the market:
has really mastered sourcing a wide range of products
knows how to get inflexible manufacturers to move
unburdens by taking over the interaction with manufacturers
is technically capable of offering alternatives
knows the market and their customers
communicates clearly and proactively
is transparent in its cost structure
has the highest possible delivery reliability.

Resolution
Of course, itsme will also show these special qualities in the coming year and go for first place again!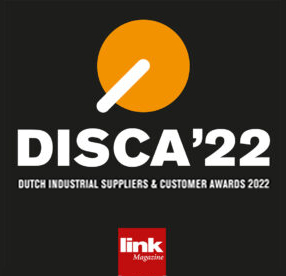 Stay up to date with the latest news: